If you haven't already read part 1 of this journal series you can find it here
)
With Guizhou's body swaddled in foam, it was time to begin this ape's face!
I scrunched up tin foil to form the head shape, so it was light as possible. The two lengths of twisted wire were secured inside the head to make the basis of the neck. I began to sculpt Guizhou's face with white polymer clay (Fimo in this case).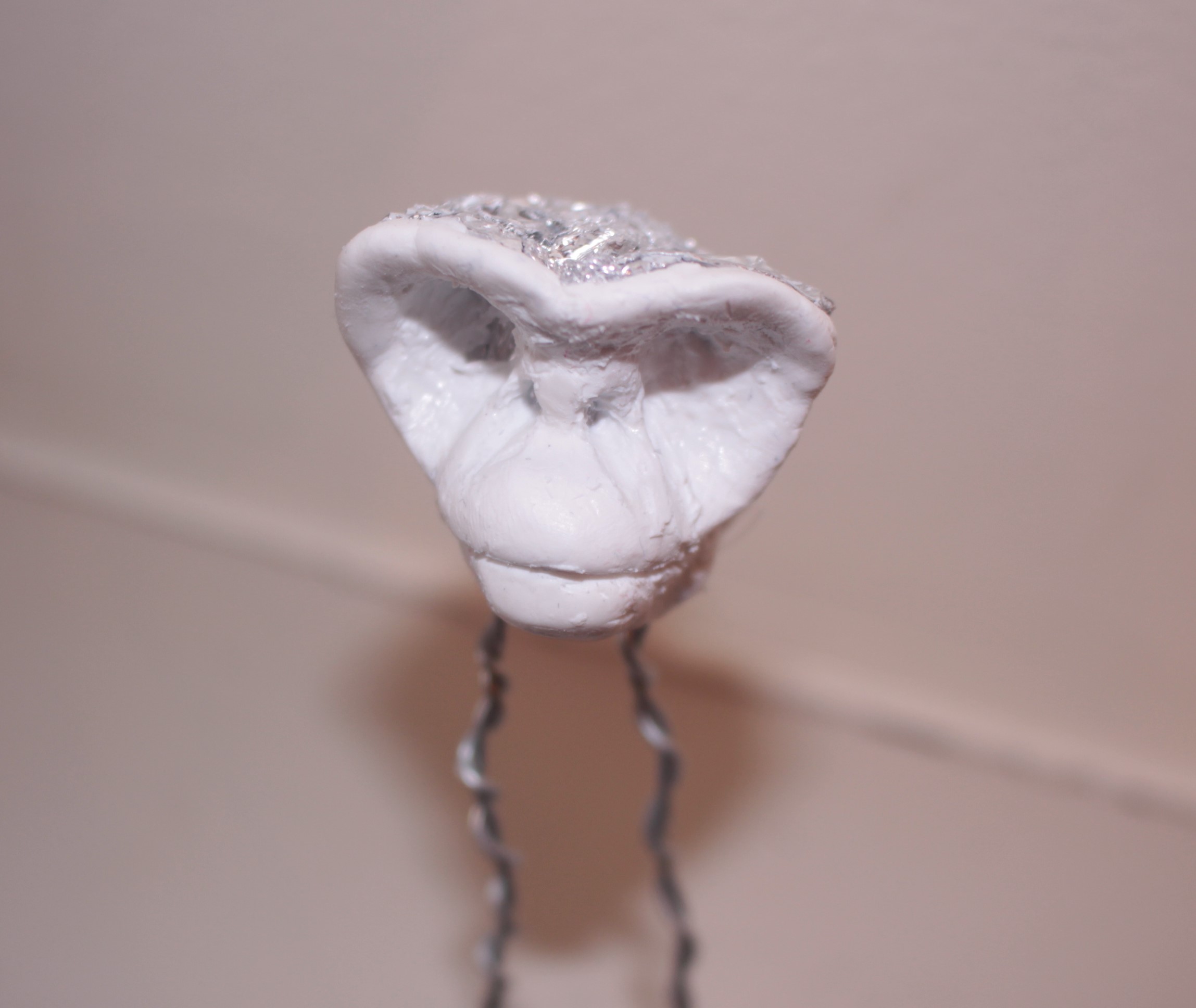 Inevitably, the cracks began to show. I wet my finger slightly and ran into over the clay to render Guizhou's face into a smoother, younger looking monkey in seconds.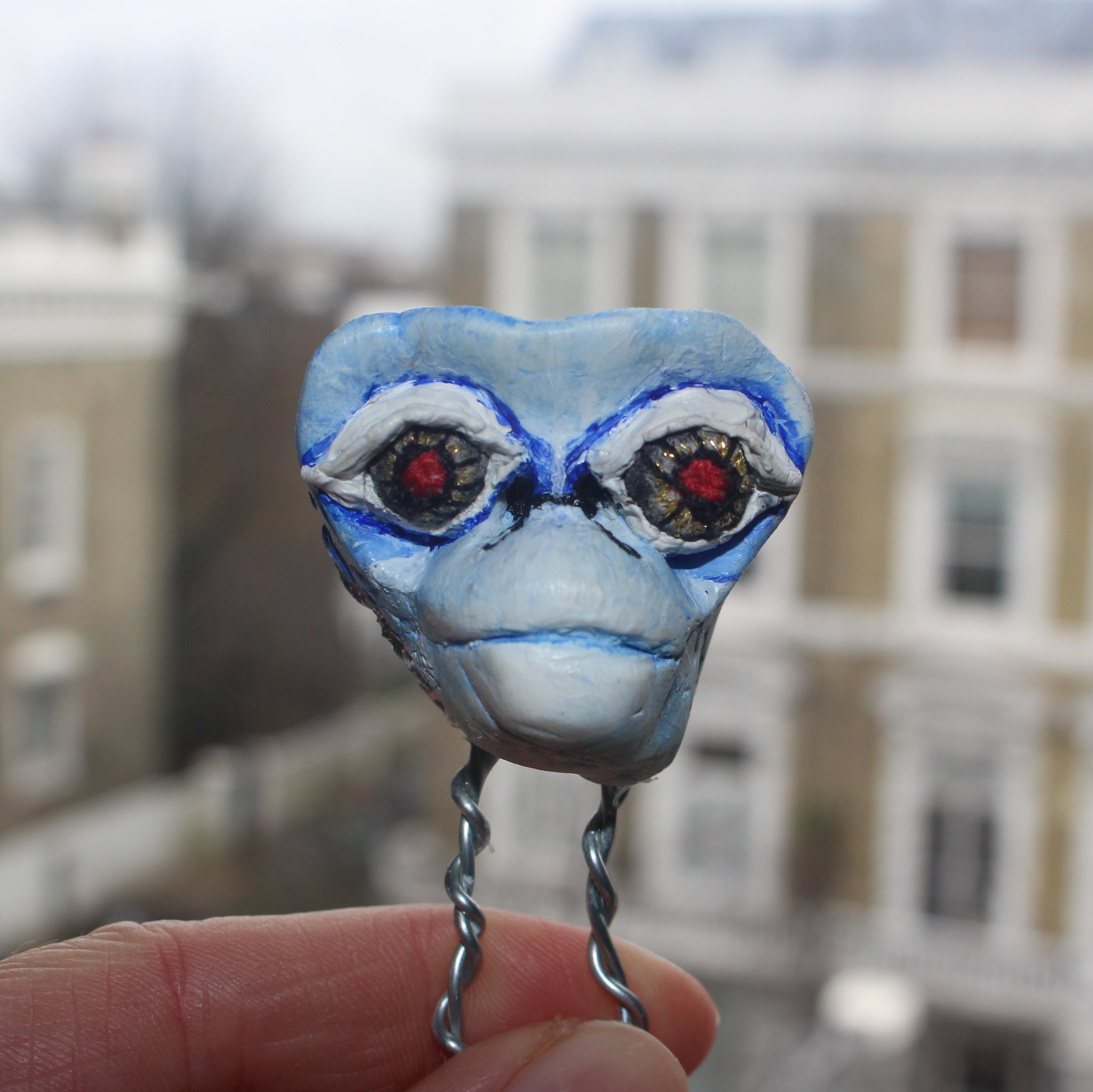 Here is a finished shot of Guizhou's face. I certainly skipped a few steps here! After the clay was baked, I smoothed it over again with sandpaper and applied acrylic paint for the details. Guizhou's eyes are made from wooden beads with fimo inserted into the holes to create one complete sphere. These were wrapped in fabric and hand-embroidered in red, black and gold threads.
The squishiness of the clay beneath the pupils means I can insert pins into Guizhou's eyes later (ouch!) and animate them looking from side to side. The eyelids will also be animatable. These are made from white-tack at the moment, but this may be subject to change later as it's a bit of an experiment. Hopefully, I will be able to freely sculpt the eyelids on set to have Guizhou open and close his eyes during the film (maybe even perform a sultry wink!).
Here you can see the beginnings of Guizhou's white cotton underlayer. I'm planning to treat Guizhou's ginger fur as 'clothes' and this layer as 'skin'. This white suit was handstitched from a pattern I made.
Around important joints such as the knees and elbows, I wrapped strips of white cotton like bandages. I like the aesthetic feel to this; however, the bandages also provide a protective function. Where the armature moves the most, the fabric is most likely to wear.
As I mentioned in the previous journal entry, I was having some trouble with Guizhou's arms, the main issue being that the arms did not fully support articulated movement. I couldn't get the puppet to hold its arms above its head which would, later, be detrimental to the effectiveness of my animation. I, therefore decided,to replace the arm parts with reinforced wire lengths and soldered the new parts to the existing armature.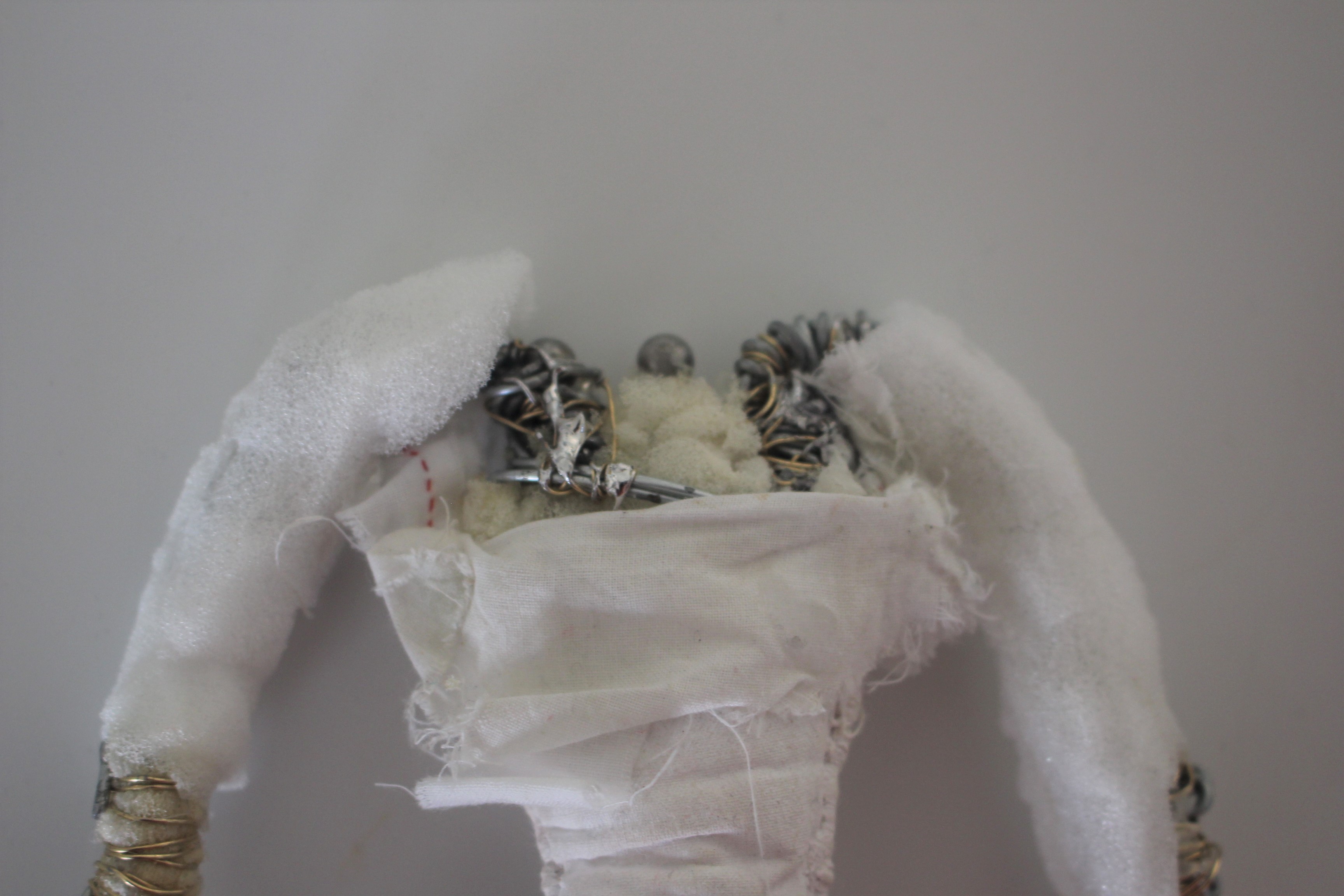 In the next installment of this journal I will delve into puppet hand-making, tussle with fur and embedded LEDs!